The Symbolic Quarantine of the Cross of Lampedusa
The wooden cross, made with the remains of a boat, that traveled through Spain in these days was stopped by the state of alarm in the parish of the Trinitarians, in Algeciras.
Now it is kept in the chapel of the religious community, which manages a reception center for people in exclusion, most of the migrants.
"A sign of the Lord of protection and help"
explains Sergio Garcia, superior of the community of the Trinitarian fathers of Algeciras. The declaration of the state of alarm for the coronavirus caught the cross of Lampedusa in his parish: a
circumstance that has meant that this wood - made with the remains of a boat, blessed by Pope Francis and now traveling around the world - has remained currently kept in the chapel of this small Trinitarian community, made up of four religious.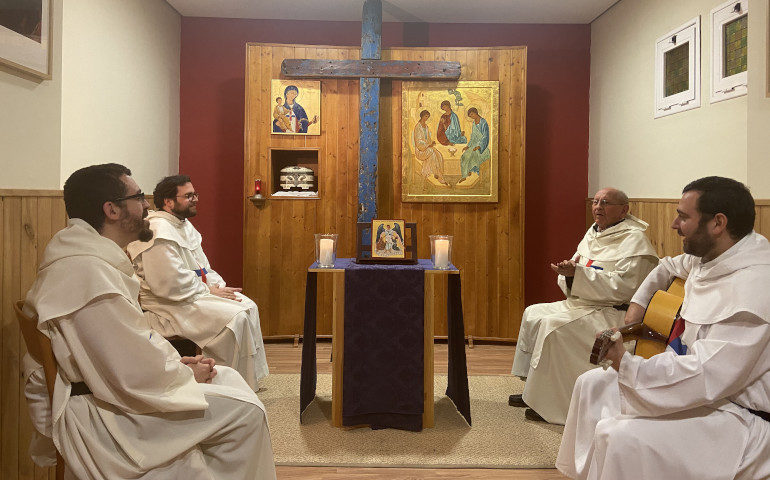 «A God-incidence»,
adds Garcia to Alfa y Omega, because Algeciras and the entire province of Cadiz are experiencing the drama of migrants who are looking for a better life in our country.
In addition to the community and the parish, there is a reception center, of the Trinitarian NGO Prolibertas Foundation, for people in social exclusion, most of whom are migrants.
However, that the cross is confined for an indefinite period does not mean that it is isolated, because thanks to these religious and social networks it is possible to keep on praying in front of it.
Actually
, every day the various prayers are transmitted through Facebook: in the morning, praise and meditation (09 AM);
in the evening exposure of the Blessed Sacrament with rosary and vespers (6 AM), and Communion (8:30 PM).
On Sunday mass is at 12:30 PM
This wooden cross, a sign of the suffering of so many people, becomes flesh in the reception house where more than 20 people from twelve different countries live.
They were the last that could gather around the cross before it was kept in the chapel of the religious community.
A simple celebration attended by those who profess other religions and many who had come to Spain by boat.
It was, according to what Father Sergio Garcia narrates, a moment of prayer, of silence and also of testimony of those who, seeing the wood of this boat made cross, remembered their journey.
You can read the full Alfa y Omega article here